______________________________________________________________________________________
__________________________________________________________________________________________
​

TEN DAYS IN TUSCANY 2018
NWACC Foundation Tour
CLICK on the "Tuscan Doors" photo above for "Ten Days in Tuscany" Details
Private NWACC Escorted by Miles Fish June 9-18, 2018
_________________________________________________________________________
​

​
CLICK to go to
NWACCinITALY.com
Northwest Arkansas Community College Study Abroad 2018
---
_________________________________________________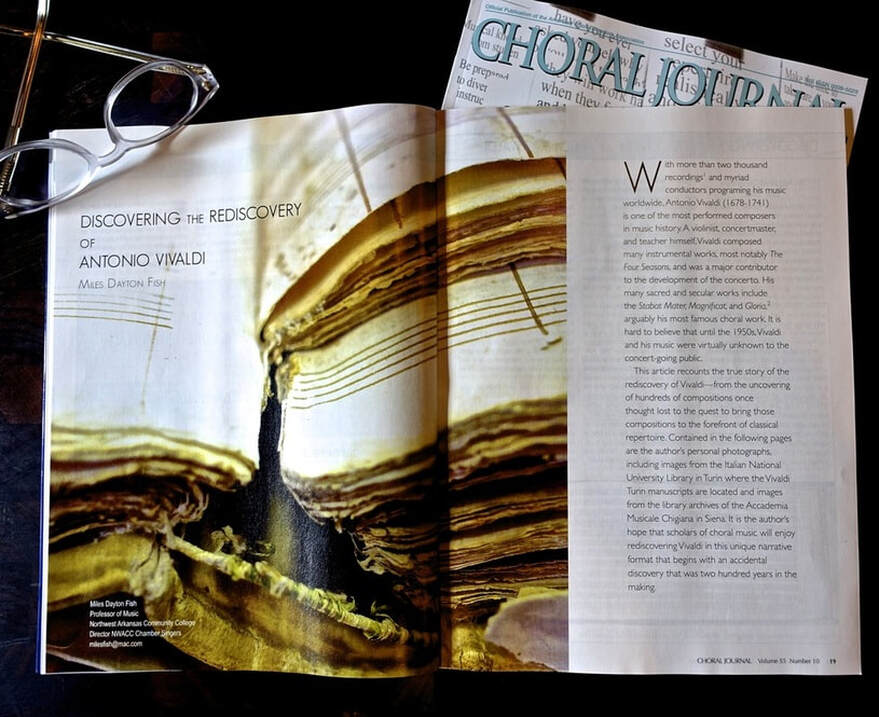 _________________________________________________________________________

NWACC Music Appreciation (MUSI 1003) Syllabus:
CLICK photo below
___________________________________________
NOTE:
The Lesson Programs listed below are for NWACC Music Appreciation Face-to-Face Classes only.
Online courses are ALL on the NWACC Blackboard website.
Lectures/Assignments Spring 2018
Face-to-Face Classes
CLICK on a Lesson below
_____________________________________________________
Assignment Due Dates for Face to Face
All assignments are open for early submission and may be submitted as soon as the semester begins.
However, the LAST DAY (Sundays at midnight) to submit an assignment is listed here.
#1 Assignment, January 21, Sunday Midnight
#2 Assignment, January 28, Sunday Midnight
#3 Assignment, February 4, Sunday Midnight
#4 Assignment, February 11, Sunday Midnight
#5 Assignment, February 18, Sunday Midnight
#6 Assignment, February 25, Sunday Midnight
#7 Assignment, March 4, Sunday Midnight
#8 Assignment, March 11, Sunday Midnight
#9 Assignment, March 18, Sunday Midnight
#10 Assignment, March 25, Sunday Midnight
No Assignment, Sunday, April 1, Spring Break,
#11 Assignment, April 8, Sunday Midnight
#12 Assignment, April 15, Sunday Midnight
#13 Assignment, April 22, Sunday Midnight
#14 Assignment, April 29, Sunday Midnight
#15 Assignment, May 6, Sunday Midnight
_______________________________________________________________
Week of Beginning January 16
Lecture #1--Intro Listening and in-class group Listening Quiz
Week Beginning January 22
Lecture #2--Part "A" Terms (group in-class exercise.)
Part "B" Form/Texture (group in-class group exercise)
Week Beginning January 29
Lecture #3--Instruments of the Orchestra
​Week Beginning February 5
Lecture #4--Music in Medieval Times
/
Lecture #5--Music during the Renaissance
Week Beginning February 12
​Lecture #6--Music in the Baroque Period /
​Lecture #7--Music in the Classical Period
Week Beginning February 19
Lecture #8--Music in the
Romantic Period
/ Lecture #9--Music in the
Post-Romantic
(20th Century)
Week Beginning February 26
Lecture #10: Vivaldi lecture / Lecture #11: Mozart lecture
​Week Beginning March 5
Monday & Tuesday Classes:
Lecture #12:
Music Historical Periods Wrap-up "Test Yourself" in-class creation
Meet in NWACC Library Bring laptops if you like
Wednesday: Lecture #13: (New) Music Listening
Week Beginning March 12
Lecture #14:
Crystal Bridges Project-60 pts.
Crystal Bridges Monday--no NWACC classroom Monday March 12
Tuesday night class meets at Crystal Bridges Monday evening 5:00 (CB Closed Tuesdays)
​Class meets Wednesday Lecture 15:
Music Listening by Music Periods
​
Week Beginning March 19
Spring Break
Week Beginning March 26
Lecture #16 and #17 It's like a Symphony
Week Beginning April 2
Lecture #18: The World's a stage Part I, Part II
Week Beginning April 9
​Lecture #1
8 (cont) World's a Statge Part III plus The British Invasion special guest
Week Beginning April 16
Lecture #19: American Music Lecture Part I and Part II
​​Week Beginning April 23
Lecture #20 Movies and Music Part I and Part II
Week Beginning April 30
Lecture #21: Final--Watch the movie "Amadeaus"
Pre-Movie mini lecture on Mozart, Vienna, Prague, and Salzburg
_________________________________________
_____________________________________________________________________________
NWACC Syllabus Chamber Singers
NWACC Syllabus American Music: The History of Rock and Roll
NWACC Student Release Forms for Travel
______________________________________________________________________________
​
"Contact Me" info reprinted from syllabi
When you email or phone me do the following before you begin your message:
1. In all email subject lines state your name and section number
2. At the beginning of the message, state the
name
that you are registered under.
3. Then state the
course name
with the
section number
and then state the
day of the week you meet
Example:
"This is John Doe, Music Appreciation section 00 that meets Mon/Wed."
or
"This is Jane Doe, Music appreciation section 00 that meets online."
Also important:
When you email me use complete sentence, correct capitalization, and spell check.
In your emails, do not use text abbreviations such as LOL, BTW, OMG, etc.
Sign your email with your first and last name (your NWACC registered name).
THANKS!
_________________________________________________________
​
The Chamber Singers at Northwest Arkansas Community College. Rehearse Tues/Thurs 1:30PM. Contact Miles Fish

This is the bottom of MilesFish.com Opening Page



​